The Virginia Hazzard Legacy Fund is charged with determining the best use of the legacy left to the CoA by our late colleague. The Legacy Fund may select to fund an innovative project to improve the quality of life for older persons in the least developed nations. We look for important, but overlooked, concerns that affect the poorest older persons. We see these grants as "impact grants", where subsequent to our funding they may become financially self-sustaining. 
Additionally, we will proudly establish an annual awardee of the "Virginia", for her/his outstanding service, advocacy, work/dedication to older persons.
The themes chosen for the 2016 awards were innovative literacy and numeracy programs for older persons. Four country NGOs received funds to initiate these pilot projects.
Virginia Hazzard Legacy Fund Project: Basic Literacy for Older Persons, Kathmandu, Nepal, Summer 2016
With the support of the Virginia Hazzard Subcommittee an adult literacy program is advanced in Nepal,  http://aidtomaturity.com/amazing-elderly-women-mature-ngo-nepal/
This project is an example of how to do things. An example we can all learn from. Ageing Nepal showed a commendable humility when taking on this, to them, whole new task of teaching elderly people.
They listened to their participants; and quickly realised they had to adjust the curriculum and the time table, more agreeable to their student's capabilities. Due to domestic duties teaching hours per day were reduced. Teaching methods had to focus on what was at immediate use for their eager students. 
This is a feel-good story from Nepal. It is about a  national NGO called Ageing Nepal and their "Basic Literacy Class for Older Persons" that ran for six months in 2016. Among all the bad news about "end of aid" and funding cuts, we do need some good stories. It is also about a remarkable NGO; showing a profound care and respect for the participants in the project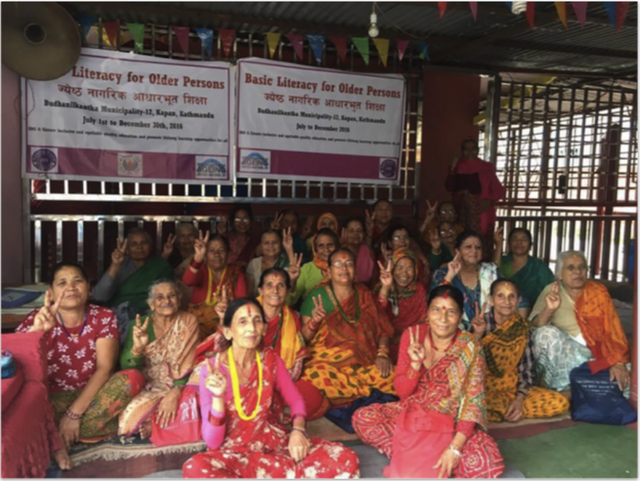 The Consequences of Illiteracy
I have not come across any NGO or government running programme focusing on literacy among the elderly. Not before I read an article about, and later contacted Ageing Nepal. That,of course, does not mean that such programmes do not exist; but they cannot be abundant.
Addressing illiteracy is most often focused on children and school-enrolment. As a result, many adults, and especially the elderly, do never get the chance to catch up and gain basic skills in reading, writing or counting. In Nepal, it is assumed that 90 % of women over 60 are illiterate.
Illiteracy makes you very vulnerable , and totally dependent on other people. It has a major effect on your well-being. You may stay at home because you are afraid of getting lost. Especially, if you have recently moved to a big city. That is the case for many of the women who took part in the "Basic Literacy Class." If you are iliterate you may not be able to use a mobile phone, and you cannot read the prescription for how to take your medicine.
The "Basic Literacy Class  for Older Persons"
What about men? Of the ones being selected to take part in the project only two showed up for the first lesson. They later dropped out, expressing discomfort being among all the ladies. (Male pride!)
Besides gaining basic literacy skills, the female participants also established enduring friendships. They now feel much more useful, and can help grandchildren with their homework. Some have even joined Facebook!
If you have time, please read the project report. It is a moving story, far away from the dry and professional reports one usually come across. If you have less time: read the stories by or about some of the women, starting at page 30.
You find the report here:  Completion Report of Literacy Class
It is for the first time in their life that our 60+ learners realized their ability to learn reading and writing as anyone else, irrespective of the gender and age. This has greatly lifted up their selfrespect and confidence to participate in the mainstream society. It is safe to assume that these ladies will continue to be active learners throughout their life.