Growing Ageing Population - 60+ Years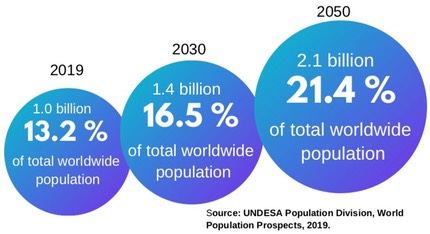 IT'S ABOUT THE RIGHTS OF OLDER PERSONS !!
The NGO Committee on Ageing remains committed to advocating for an international legal instrument, a convention, to protect the rights of older persons.  The NGO Committee on Ageing participates actively in the Open-ended Working Group on Ageing (OEWGA), which was established by the United Nations General Assembly to consider "the existing international framework of the human rights of older persons and identifying possible gaps and how best to address them, including by considering, as appropriate, the feasibility of further instruments and measures".
The NGO Committee on Ageing's Subcommittee to Promote a Convention prepares flyers and talking points, conducts Mission visits in preparation for the OEWGA and also advocates for the rights of older persons at numerous United Nations intergovernmental bodies, such as the High Level Political Forum, the Commission for Social Development, the Commission on the Status of Women, the Commission on Population and Development. 
The NGO Committee on Ageing is also a member of the Global Alliance for the Rights of Older People (GAROP - https://rightsofolderpeople.org/) and is an ex officio member of its Steering Group. 
A convention on the rights of older persons would, among other things:
View older persons as rights-holders, and not merely an issue of medical rehabilitation and social welfare.

Codify their rights into one single document.

Establish a common, global understanding of the definitions and minimum standards of practice.

Act as an anti-discriminatory tool to challenge prevailing negative stereotypes about old age.

Improve State accountability and transparency with respect to actions taken for older persons.

Create societies and environments for all ages, where older persons are also able to contribute, prosper and enjoy their rights.
The 11th session of the Open-ended Working Group (OEWGA) will be held 29 March to 1 April 2021.  For information on the OEWGA, go to the United Nations website:  https://social.un.org/ageing-working-group/eleventhsession.shtml. 
For additional information on past meetings, background and advocacy materials, links to GAROP and HelpAge, go to Open-ended Working Group on Ageing, under "Meetings".
Watch this space for up-to-date information about preparations leading up to the next session of the OEWGA.
Notifications of events organized throughout the year by the NGO Committee on Ageing will be sent out by email. Watch this space for updates on upcoming events. 
Full list of upcoming and recent events of interest to our members may be found here.

The United Nations Department of Economic and Social Affairs (DESA) is asking for information on good practices, success stories and lessons learned from implementation of the Sustainable Development Goals.  Please showcase the work you have been doing for older persons!!  This is an opportunity to ensure that older persons are featured in DESA platforms and events.  Deadline for submission is 14 March 2021.   More information here:   https://sdgs.un.org/sdg-good-practices
Flyers here: SDG Good Practices