Growing Ageing Population - 60+ Years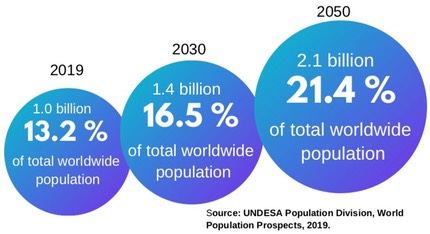 NEWSFLASH!!

1. REGISTER FOR THE MULTISTAKEHOLDER MEETING, 29-30 AUGUST 2022 !!!, NGOs with or without UN ECOSOC status can register to attend the meeting either in person or virtually here 
The Human Rights Council, in its resolution 48/3 requested the United Nations High Commissioner for Human Rights:
to prepare a report on normative standards and obligations under international law in relation to the promotion and protection of the human rights of older persons; and
to convene a multi-stakeholder meeting, with the participation of the Independent Expert on the enjoyment of all human rights by older persons , human rights experts and expert representatives of Member States, the treaty bodies and the special procedures regional mechanisms, the United Nations system, academia, national human rights institutions and civil society, including with the meaningful and effective participation of older persons and of persons of different ages, to discuss the report and to prepare a summary with conclusions of the meeting that includes recommendations on addressing possible gaps and the dispersiveness of international human rights law with regard to older persons and to submit the report to the Human Rights Council by its fifty-first session.
More information about the meeting including a concept note/programme and background documents can be found here
We need as many civil society organizations as possible to attend the meeting (in person, in Geneva, or virtually) to show solidarity in our efforts to ensure the drafting of an international legal instrument to promote and protect the rights of older persons.
2. The twelfth session of the Open-ended Working Group on Ageing (OEWGA) which met from 11-14 April 2022 closed with a proposal from Argentina to convene a "Cross Regional Core Group" during the intersessional period to prepare a draft decision to be submitted to the OEWGA at its thirteenth session in 2023, that would propose  an Intersessional Working Group to prepare and present a draft text determining the main gaps in the international human rights system for older persons, which would be the basis for the further negotiations of instruments and measures to close those gaps.  Watch this space as more information becomes available.
Report of OEWGA 12:  https://undocs.org/A/AC.278/2022/2
3. JOIN the Age with Rights Campaign – use toolkits provided by the Global Alliance for the Rights of Older People:   https://rightsofolderpeople.org/
4. 336 NGOs from 78 countries signed an Open Letter calling for urgent action to be taken by the Open-ended Working Group on Ageing to protect the rights of older persons. 
https://rightsofolderpeople.org/wp-content/uploads/2022/04/Open-Letter-for-OEWGA-Bureau_20-Sep-2021_List-of-Signatories-7-April-2022.pdf
5. A full listing of current and past newsletters may be found 
here
6. Learn how to use your Twitter Account !!   
Powerpoint presentation here

Notifications of events organized throughout the year by the NGO Committee on Ageing will be sent out by email. Watch this space for updates on upcoming events. Full list of recent events of interest to our members may be found here.