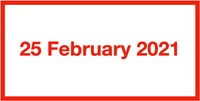 ARE YOU READY FOR THE 11TH SESSION OF THE OPEN-ENDED WORKING GROUP ON AGEING?

REGISTRATION REQUIRED.
Thursday 25th February 2021
10:00-11:00 am (Eastern Standard Time)
Get ready for the 11th session of the Open-ended Working Group on Ageing!  The GAROP webinar will discuss advocating for the rights of older persons!   Register here.